Corporate Wellness Program
Our corporate wellness solutions go beyond traditional programs. We believe in creating an environment where your employees thrive, both physically and mentally. By partnering with Sweat, you can unlock the potential of your workplace and cultivate a culture of wellness that drives success.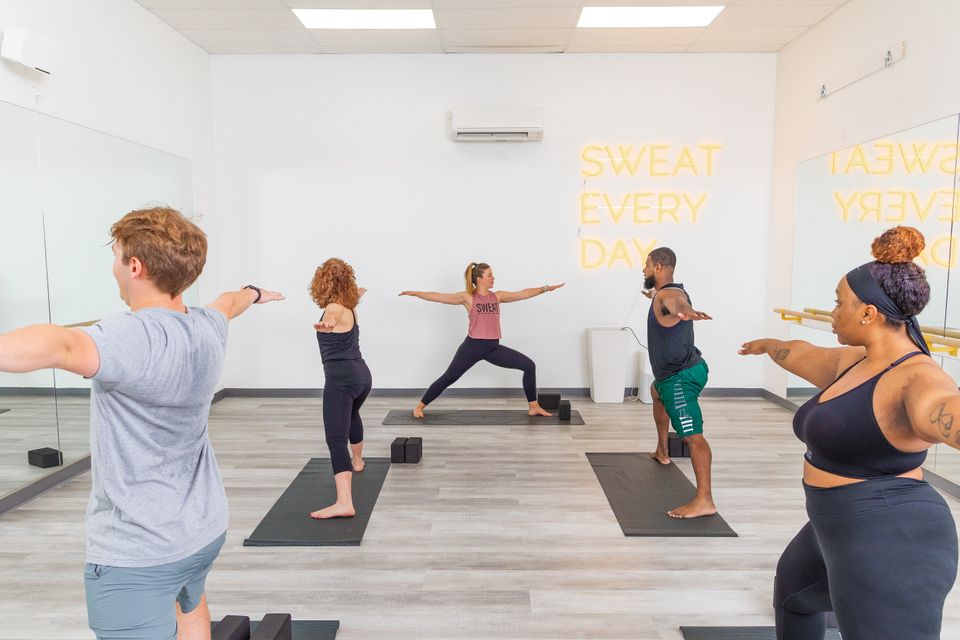 At Sweat FXBG, we believe that a healthy and motivated workforce is the key to a thriving company. That's why we're excited to introduce our comprehensive Corporate Wellness Program designed to empower your employees and transform your workplace into a hub of health, wellness, and productivity.
Why Choose Sweat Corporate Wellness?
Boost Employee Health and Well-being: Our program is specifically tailored to enhance the physical, mental, and emotional well-being of your employees. By providing access to our state-of-the-art facilities, top-notch group fitness classes, and personalized training options, we empower your team to prioritize their health and lead active lifestyles.
Increase Employee Engagement: Engaged employees are more productive and committed. Our wellness initiatives foster a sense of community and motivation within your workforce, resulting in increased employee engagement, teamwork, and overall satisfaction.
Reduce Healthcare Costs: A healthier workforce means fewer healthcare-related expenses for your company. By offering fitness memberships, wellness challenges, and educational workshops, we support your employees in making positive lifestyle changes, ultimately reducing healthcare costs.
Improve Productivity and Performance: Physical activity has a direct impact on cognitive function, creativity, and productivity. Our program ensures that your employees have access to energizing workouts, stress-relief practices, and personalized coaching to help them perform at their best.
Customized Solutions: We understand that each company is unique. Our team will work closely with you to develop a tailored program that aligns with your organization's goals, culture, and budget. From flexible membership options to on-site wellness initiatives, we create a program that suits your specific needs.
Our Corporate Wellness Program Offers:
Access to our world-class fitness facility, including the Sweat Lab 24-hour workout space.
Personalized training sessions with certified trainers to meet individual goals.
Engaging wellness challenges and competitions to inspire friendly competition and teamwork.
Educational seminars and workshops led by industry experts on various health and wellness topics.
Corporate Pricing
Bronze Wellness Bundle:
Month-to-Month Membership: $138 per employee per month
Includes access to all group fitness classes and the Sweat Lab 24-hour workout space
Ideal for companies looking to offer flexibility to their employees without a long-term commitment
Silver Wellness Bundle:
12-Month Commitment Membership: $99 per employee per month
Includes access to all group fitness classes and the Sweat Lab 24-hour workout space
Offers a discounted rate for employees committing to a year of wellness
Additional perks: 1 complimentary personal training session for each employee to kickstart their fitness journey
Gold Wellness Bundle:
12-Month Commitment Membership: $99 per employee per month
Includes access to all group fitness classes and the Sweat Lab 24-hour workout space
Health seminars/workshops: 2 x educational sessions conducted by fitness and wellness experts from Sweat on various topics to be held at corporate location.
Includes a complimentary Sweat "swag" bundle for participating employees, featuring branded merchandise including a water bottle, t-shirt, and protein shaker bottle.
Note: Minimum of 5 employees required for enrollment in the Gold Wellness Bundle.
Summary
Investing in your employees' well-being is an investment in the success of your organization. Join the Sweat Corporate Wellness Program today and witness the positive impact it will have on your workforce.
💬
Chat with our team now to discuss how we can customze a wellness program tailored to your company's unique needs! Tap the button in the bottom right of this page to get started today or email us at info@sweatfxbg.com
Take the first step towards a vibrant and thriving workplace – choose Sweat Corporate Wellness!